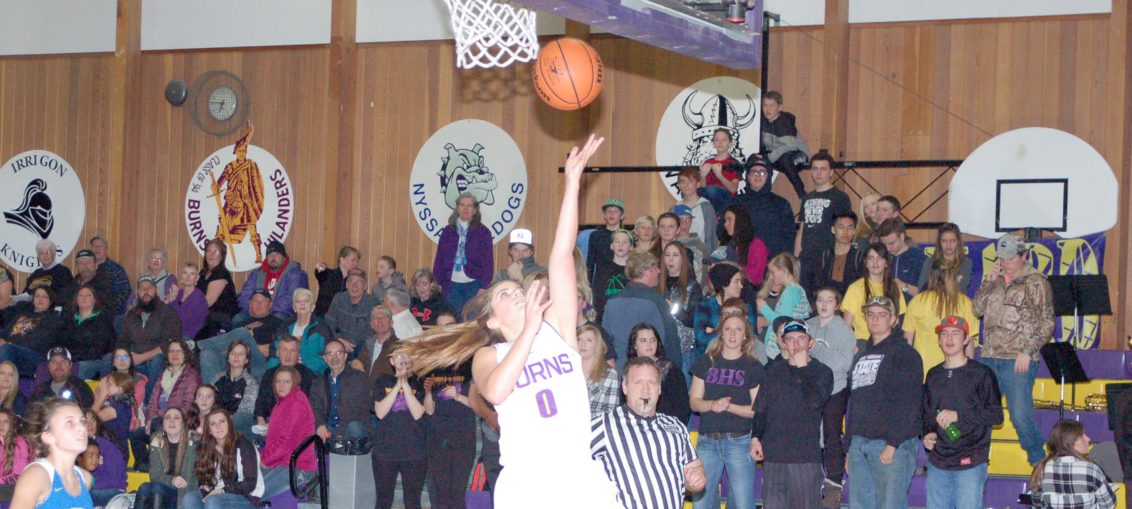 The Burns girls basketball team defeated Umatilla twice and lost to Irrigon in Eastern Oregon League (EOL) play, and are now 4-1 in conference play.
On Monday, Jan. 23, the Hilanders traveled to Umatilla and came away with a 39-36 victory.
The following day, Burns played at Irrigon and the Knights picked up the win by a score of 49-35.
On Friday, Jan. 27, Burns hosted Umatilla and downed the Vikings 70-30.
Burns took command of the game early, jumping out to a 16-6 first quarter lead, and then led 30-15 at halftime.
The Hilanders then outscored Umatilla 23-6 in the third quarter, and coasted to the 40-point victory.
The Hilanders were led by Lindsey Taylor with 18 points, Carli Feist with 17, and Oakley West with 13. Grace Johnston and McKenzi Hoyt chipped in with seven each.
Burns will continue EOL play on Friday, Feb. 3, when they host Vale.
•••
The Burns boys basketball team lost both games on a two-day road trip, and then bounced back for a home win on Friday, Jan. 27.
On Monday, Jan. 23, Umatilla ran past Burns 63-37.
The Hilanders traveled to Irrigon the following day and lost 61-45 to the Knights.
On Jan. 27, the Hilanders edged Umatilla 38-36 at Burns High School.
After trailing 9-4 at the end of the first quarter, Burns' offense came to life in the second quarter, outscoring Umatilla 18-6 to grab a 22-15 lead at the break.
At the end of the third stanza, Burns led 30-22 and looked poised to pull off the upset of the eighth-ranked Vikings.
The Vikings battled back in the final quarter and led 36-35 with less than a minute to play. The Hilanders' Bryce Goss then connected on a 3-pointer to put Burns back on top, and the Hilanders hung on for the win.
Goss finished with 14 points, Scott Davies and Zane Taylor scored six apiece, and Kai Dahl added five.
The Hilanders are now 2-3 in league play and will host Vale on Friday, Feb. 3 at Burns High School.