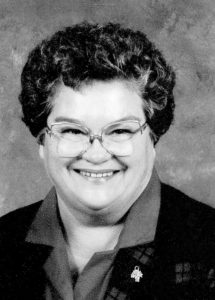 Ulaberl M. Allen, 86, died on Sunday, January 15, 2017 at Harney District Hospital.  A Funeral Mass was held for her on January 21, 2017.
Ulaberl M. Allen was born in Thetford, Vt. on Feb. 21, 1930 to parents, Admiral D. Palmer and Myrtle Knight.  She was the third of eight children in the family.  She graduated from Greenfield Massachusetts High School in 1949 and joined the U.S. Air Force.  After basic training, she attended teletype mechanics school at FE Warren AFB in Cheyenne, Wyo. and was sent to McCord AFB in Tacoma, Wash.  While assigned there, she met her future husband, William Allen, who was also in the U.S. Air Force.  They were married in the Base Chapel on July 7, 1951.  To this union was born three sons, Paul, David and Gary.  She accompanied her husband to Japan and France along with assignments to Dover AFB, Delaware, and Palermo AFS in Ocean City, N.J., and Wright Patterson AFB in Dayton, Ohio.  Her husband retired in June 1970, and they moved back to Burns.  Her husband became the State Farm Insurance Agent, and she worked in the office for many years raising the boys.
Ulaberl loved to camp and spent many weekends at the cabin on Strawberry Creek and at the campground at Fish Lake on Steens Mountain.  She loved to sew, and she made and donated numerous quilts.  She taught sewing at the HHOPE facility and the Boys and Girls Club. She was active in the Catholic Church and taught CCD for many years.
She was a member of the American Legion Post #63 and a member of the American Legion Auxiliary Post #63.  She was a regular for lunches at the Harney County Senior and Community Services Center and a meal sponsor for many years.
She is survived by her husband of 65 years, William Allen; sons, Paul and wife, Debra, of Roseburg, David and Cheryl of Burns, Gary and wife, Marni, of Meridian, Idaho;  grandchildren, Tracy, Lauraine, Telisa, Alex and Ria, Leah and Marlena and Jones B. Turner; great-grandchildren, Alexander, Nicholas, Catherine, Lily, Andrew, Eli, Dallas, Zachary, Khelbin, Levi, Catherine, Dakota, Walker, Hawthorne and Thoreaus; brothers, Bruce and Dewey Palmer; and sister, Yuda.
Contributions in her memory can be made to the Harney County Senior and Community Services Center. LaFollette's Chapel was in charge of arrangements.