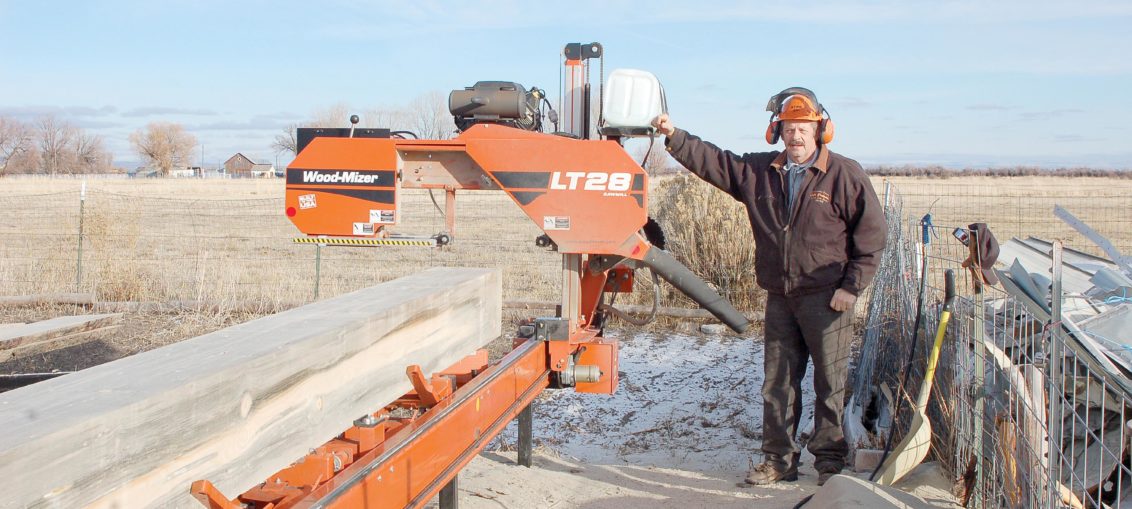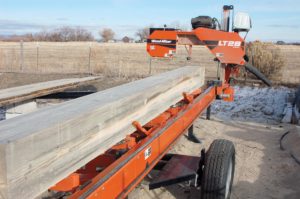 The aim of any business is to fill a niche in the market place, and one of the newest players in the wood products industry is Harney Forest Products, LLC of Burns.
Dave Clelland and his wife, Dana, are co-owners in the business that began last February by selling firewood at their location at the end of Lincoln Street off of South Egan. Then in May, Clelland purchased a portable sawmill and began transforming logs into dimensional lumber.
When he first started his mill, Clelland was working with juniper. However, he said he's since moved on to pine, as blue pine is currently in demand. Clelland purchases his logs from Brad Clemens, a local logger, who cuts on private land in Grant County where the Canyon Creek Complex Fire burned in 2015. The logs are then trucked to Burns by Bruce Dunn.
Clelland cuts the logs into different lengths, ranging from 8 feet to 20 feet. He can then start cutting the logs into boards, with a maximum width of 28 inches.
"That's a counter top right there," Clelland said. "Twenty-eight inches is perfect to lay down for a counter top, and the color is great in this wood."
In addition to counter tops, Clelland can do specialty cuts for fireplace mantles, flooring, ceilings, wainscoting, and other projects. If someone has specialty logs, like oak or other woods, he will mill those logs for them as well.
Clelland cuts about 700 board feet a day, and has sold quite a bit of product already, mostly in Harney County. He said the most difficult aspect of the business right now is the marketing, or trying to get the word out about his business. However, he said he has some good leads on the overseas market and hopes those come through for him.
Clelland only spends part of the year in Burns, as he also works as a consultant in Fairbanks, Alaska. He travels to Alaska the first of April and then returns to Burns in either October or November. While he's gone, Dana and a friend, John Pomeroy, keep the sawmill running.
"Working 12 hours a day, seven days a week, I can make a lot of money in Alaska, but I'd like to stay home," Clelland said.
His goal for the mill is to eventually have three or four employees, starting at $15 an hour, if the log market allows it. He said smaller mills are becoming more popular because, if one of them can't survive, it only affects a small number of workers. However, when the larger mills shut down, hundreds of people are out of work.
Clelland is also in the process of finding a new location for his mill. He said he wants to find a building so he can operate indoors, and then add a planer and molder.
The slabs of wood trimmed off the sides of the logs are made into firewood. Clelland plans to cut them into 14-inch lengths, bundle them up, and sell them by the cord.
"We're trying to help the community economically, help some people here with jobs," Clelland said. "I'd like to get to the point where we could donate to local programs, like Meals on Wheels, or donate a cord of wood to a kids' group for them to raffle off. We're not here to make a ton of money. We're here to help," Clelland said.
Other products are also a possibility. Clelland said if someone has an idea for a product that they would like to see built, like a bench or picnic table, they can stop by the mill or call 1-907-987-4030.
"It might take a few years to build this business up, but we're going to keep trying," Clelland said.