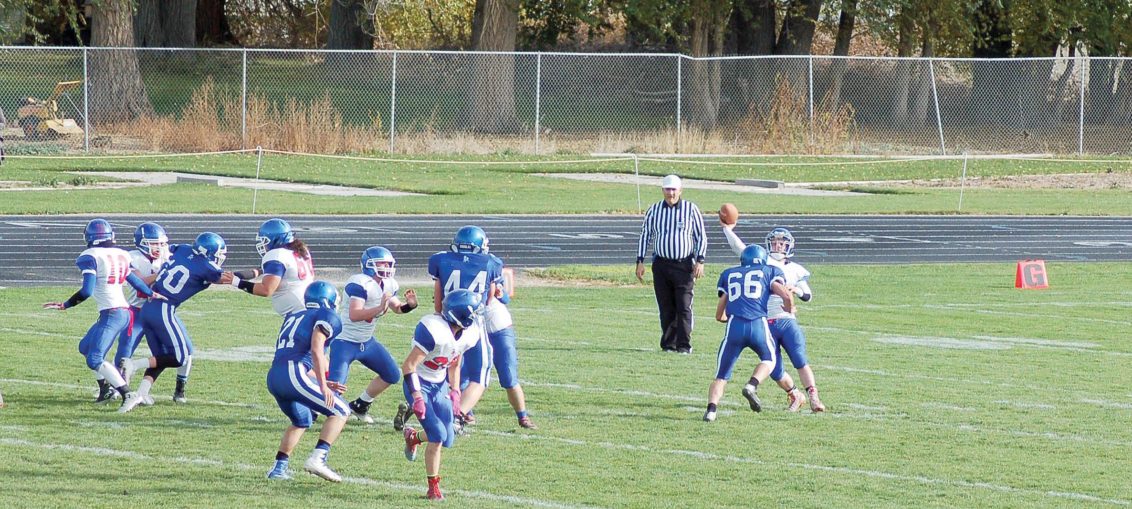 by Lindy Williams
Burns Times-Herald
In the first post season game of the year, the Crane Mustangs football team secured a 44-40 win over the Powder Valley Badgers in Vale.
After a strong first quarter and touchdown passes from Miles Maupin to David Steeves and a two-point conversion from Jay Jay Balowski, the Mustangs headed in to the second quarter with a 14-0 score.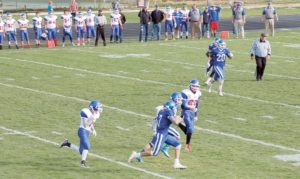 Powder Valley fired back in the second quarter, scoring 22 points. Cade Brown ran back a kickoff for a touchdown, and Seth Dixon threw touchdown passes to both Brown and Brogun Tibbitts. Brown and Korey Grende added two-point conversions.
The Mustangs also added 24 points to their lead in the second quarter, holding off the Badgers at halftime. Maupin connected with Steeves and Jacob Dunn for touchdowns, and Balowski ran back a kickoff for his own TD. With two-point conversions from Steeves and Dunn, the score sat at 38-22 at halftime.
The Badgers came out fighting in the third quarter and scored on a pass completion from Dixon to Isaac Colton. The two-point conversion failed, leaving the score at 38-28 at the beginning of the fourth quarter.
The next score also went to the Badgers when Dixon threw a short pass to Gus McGinn in the end zone. The extra point failed, and with under six minutes left in the fourth quarter, the score was 38-34.
The Mustangs scored once more when Maupin connected with Balowski for a touchdown, putting them just enough ahead to log in the victory. The two-point conversion was no good, leaving the score at 44-34.
The Badgers put together one more touchdown throw from Dixon to Dawson Smith, the two-point conversion fell short, and the final score sat at 44-40 as the Mustang offense ran out the remaining time.
The Mustangs' rushing game only logged 113 yards for the game. Maupin led the rushing attack with 44 yards, Balowski had 34, and Steeves 33.
Crane's offense picked up 284 yards through the air. Maupin threw for all 284 yards on 12 completions. Cashe Davis was the Mustangs' leading receiver with 97 yards on five receptions. Steeves caught four passes for 94 yards, Balowski had one catch for 51 yards, Elijah Epling caught one pass for 29 yards, and Dunn had one reception for 14 yards.
The Mustangs next round of state playoffs will be played in Crane against Triangle Lake, on Saturday, Nov. 5, at 1 p.m.