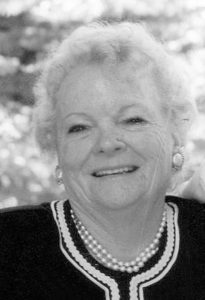 Berneace Shelton of Burns, passed away Oct. 20, at the age of 88.
Berneace was born May 25, 1928, in Burns, to Harry and Irene Church. Berneace grew up at the Narrows as a ranch child.  She and her three brothers, along with her mother and the help of neighbor ranchers, cared for a bustling cattle ranch spread over two locations. Taking on ranch responsibilities at a young age helped to mold her into the industrious citizen, wife, and mother we all loved. Berneace was the eternal optimist! The glass was always half full, the rain clouds of life always had a silver lining, there is a bright light at the end of the tunnel which helps us find the positive side of things, always appreciative, extremely grateful, and she always looked for the good in people. She lived the poem "Promise Yourself" by Christian Larson. Proverbs 17:22, "A joyful heart is good medicine" proved true in Berneace's long and rich life.
Growing up at the Narrows, according to Berneace, was an adventure.  Imagine riding to school five miles one way on horseback at minus 20 degrees with your mischievous younger brother behind you! Before school, you had your chores milking, feeding, watering the animals, and after school, the routine began again with added responsibilities!
Berneace graduated from Burns Union High  in 1946 and began work at the Harney County Branch of US Bank. She met Larry Shelton in 1948 when her older brothers, Bill and Hank Church, brought Larry home with them to the family ranch at the Narrows. They were on leave from the Merchant Marines. Bill and Hank returned to the sea, but Larry remained in Harney County for the next 65 years.  He would marry the love of his life, Berneace, Oct. 15, 1950. It was often mentioned among family and friends that if everyone was as devoted to each other as Larry and Berneace, there would be no divorces. Berneace had two honorary daughters. When you are a biological son or daughter, the parents are stuck with them come what may. Yet, honorary daughters are a choice and what a fine choice she made in Susan Dickerson Schulte and Jackie Church Drinkwater. They would not have been Mike and Gary's first choice for them, they were just bossy!
With Larry being employed by US Bank, Berneace found employment working for Alpine Creamery as their bookkeeper, a job she enjoyed for 16 years. After her son, Mike, was in middle school, she ran for Harney County treasurer in 1970 and was elected to this  public office and served as treasurer for 16 years. She was elected president of the Oregon Treasures Association, fulfilling her term and remained a member until her retirement in 1986. Berneace was an active member of the St. Andrew's Episcopal Church, being an integral part of the yearly winter wreath and swag sale. She was a board member for the Harney County Library. Berneace and Larry donated and tended the planters on main street (especially by the old yellow fuel truck) in downtown Burns and many times could be seen hauling milk jugs of water to care for the plants. Paper would run out if we tried to enumerate the many gifts and time they have given to the Harney County community. They both experienced what is written in Acts 20:35, "You must keep in mind the words of the Lord Jesus, when he himself said: 'There is more happiness in giving than there is in receiving'."  Two of the happiest people in the world.
Berneace and Larry enjoyed the great outdoors, at times just taking the family on a Sunday drive to see the birds, deer, plants, crops, water, and whatever else popped up. Berneace loved to garden and while Larry was golfing, she found her peace in her garden beds, nurturing her plants. She shared her love for horses with all she met.  Their big eyes, soft ears, sounds, and smell would bring a smile to her face.  She was a horsewoman extraordinaire and horses considered her one of their own!
Berneace is survived by sons, Mike Shelton and wife, Lois of Bend, and Gary Shelton and wife, Rhonda of Moro; grandchildren, Ty Shelton and his fiancee, Courtney Lee of Cary, N. C., Cole Shelton of Folsom, Calif., Shawna Epperson and her husband, Jay, along with their children Becca and Cadie, of Dallas, Nick Shelton and his wife, Shannon, along with their two daughters, Bella and Aleah of Bend, sister-in-law, Margaret Appel, sister-in-law, Doreen Church and her son, Dean of the Narrows; her niece-like-daughter, Jackie Drinkwater and her husband, Bob; nephews, Lloyd Church and wife, Melissa of Vancouver, Wash., Andy Church and wife, Debbie of Damascus, Ron Church and wife, Patty of Gresham, and Bill Church of Blaine, Wash.
The Shelton family would like to give special thanks to Gary and Patsy Carlson, loving, caring, and vigilant neighbors; personal nurse Jackie Drinkwater and her husband, Bob, for their providing care and peace of mind; Berneace's professional home care team that became family, Janice Walker, Lynn Biggs, Jackie Dickenson, Carol Hendrickson, and Sabrina Freed; Harney County Home Health nurse Matt and bath lady DeeDee, and friends from the community that allowed both Larry and Berneace to be in their home up to the end. They would also like to thank Matt Littau and other members of the Saint Andrew's Episcopal Church.
Donations may be made in Berneace's memory to Saint Andrew's or to a charity of your choice.
Yes, we are sad to have lost our parents, good friends, aunts and uncles.  One of the optimist quotes sums up how we also feel toward Larry and Berneace: "Don't cry because it's over, smile because it happened."