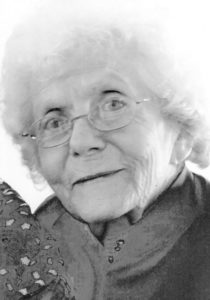 Marceline Rose (Ziegler) Mues, 83, passed away Oct. 9, at Ashley Manor in Burns.
Marceline, known to her friends and family as Marcy, was born Sept. 14, 1933, in Oakley, Kan. She was the seventh of eight children born to Antone and Margaret (Miller) Ziegler, and throughout her youth, she helped her family work the family farm outside of Oakley. Marcy graduated from Oakley High School in 1951. Following graduation, she attended beautician school in Denver, Colo., but needed to return home when her mother passed away in 1954. By 1956, Marcy had returned to Denver to resume her career as a beautician, and it was there that she met and fell in love with Jim Mues. Marcy and Jim were married Aug. 19, 1957, and over the following seven years, they welcomed their children, Dave, Jalyn, and Scott.
In 1969, Jim and Marcy decided to move their family to Burns where they had bought property the prior year. Marcy worked many jobs while she and Jim raised their family on Red Barn Lane. For several years, Marcy worked for Nolan and Daisy Higley at the Desert Trading Post where she developed her interest in antiques and garage sales. During the subsequent years, Marcy worked for Edward Hines Lumber Company, the Hines School District, and for Frank and Aggie Hirsh at Burns Electric. During the early eighties, she returned to school and renewed her beauty license. For several years, she shared a shop in Hines with Butch Vinson. Eventually, Jim built a shop for her at their home in Hines, and Marcy enjoyed cutting hair and giving permanents there for many years.
After retiring, Marcy enjoyed being with her friends and buying various knick-knacks at yard and garage sales. For many years, Marcy and Jim were able to look after their grandchildren, especially after school, and they took great pride in their grandchildren's accomplishments. In turn, Emily, Dylan, Sarah, and Maggie delighted in the many opportunities they had with grandma and grandpa.
Marcy and Jim's first great-grandchild, Silas, was born in 2013, and Silas' sister, Quinn, joined the family in 2014.
Marcy is survived by her sisters, Agnes Young of Fresno, Calif., Delphine and her husband, Pat Malone of Coronado, Calif., Loretta Beckman and Maynard Neese of Security, Colo.; Phil Ziegler and his wife, Agnes, of Hutchinson, Kan.; son, Dave Mues and his wife, Debbie; daughter, Jalyn Thompson and her husband, Jake; grandchildren, Emily (Mues) Johnson and husband, Devin, Sarah Mues, Dylan Thompson, and Maggie Thompson; great-grandchildren, Silas and Quinn Johnson, Max and Rayta Mues of Golden Colo.; as well as many nieces and nephews.
Marcy was preceded in death by her husband, Jim; son, Scott; mother and father, Margaret and Antone (Tony) Ziegler; sisters, Irene (Zerr) and Marie; and brother, Leo Ziegler.
In lieu of flowers, the family requests that contributions be made to either the Ronald McDonald House of Central Oregon or Harney County Home Health and Hospice.