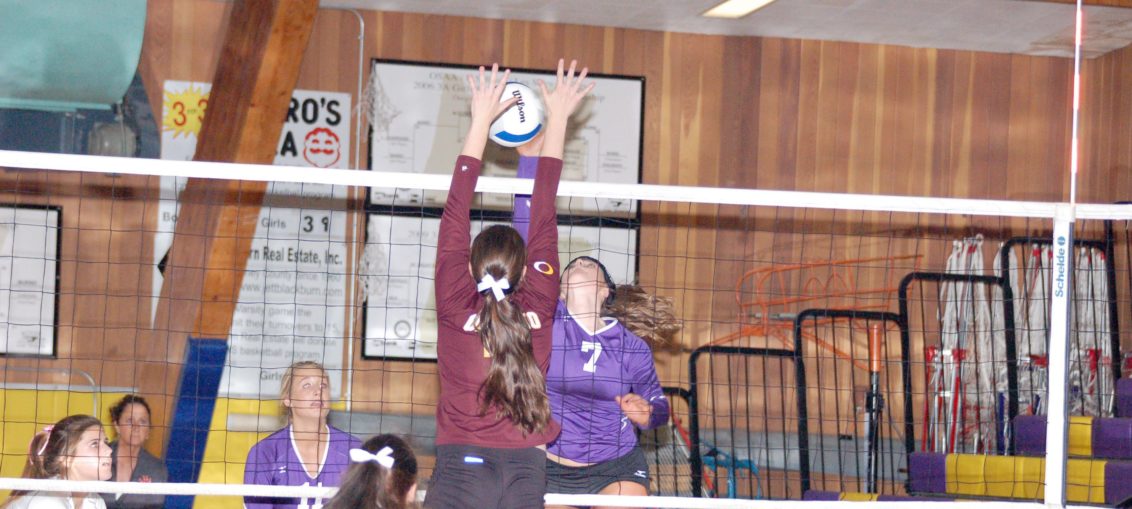 On Saturday, Oct. 8, the Burns volleyball team competed in the Creswell Tournament.
In pool play, Burns split with Catlin Gabel 25-19, 21-25 in the first match.  The Hilanders' Carli Feist led in kills with five, followed by Lindsey Taylor and Rachel Duhn with four each. Taylor led the team in serving and serve receive with three aces and 12 receptions.
Burns then played Creswell and split 25-23, 22-25. Nicol Gahley and Duhn led in kills with six each. Parker Landon had nine digs, and Ally Sutcliffe led serve receive with 13 receptions. Feist led the team with 20 assists
Burns then beat St. Mary's 25-16, 25-15.  Taylor led in kills with eight, followed by Sutcliffe with six. Feist finished with 16 assists, Emma Winn had six digs, and Feist added five digs. Sutcliffe and Taylor led serving with 100 percent serves.
In the first round of bracket play, the Hilanders downed Pleasant Hill 25-17, 25-19. Sutcliffe, Gahley, Duhn, and Bella Woodworth all had 100 percent serving. Taylor recorded eight kills, and Gahley and Duhn added four each. Sutcliffe finished with 14 digs, and Feist had 16 assists.
Burns then took on Creswell in the semifinals, losing 25-15, 21-25, 7-15.  Sutcliffe and Taylor each had five kills, and Duhn four kills. Gahley led serving with 100 percent. Taylor led the team in receptions with 100 percent. Winn finished with 11 digs, and Feist 17 assists
Creswell went on to beat Cascade Christian in two sets to win the tournament.
•••
The Burns Hilanders picked up another non-conference volleyball victory on Thursday, Oct. 6, by beating Ontario 25-22, 25-16, 25-17.
•••
The Burns volleyball team improved to 5-1 in the Eastern Oregon League with a three-set sweep of Nyssa on Tuesday, Oct. 4, at Nyssa High School.
The Hilanders won 25-19, 25-7, 25-18.
Taylor led the offensive attack with 14 kills in the match, while Sutcliffe and Feist added seven kills each. Feist was the team leader in aces scored with four, and assists with 26.
Burns came up with 88 digs in the match, led by Gahley with 25. Duhn recorded 16 digs, and Landon 13.