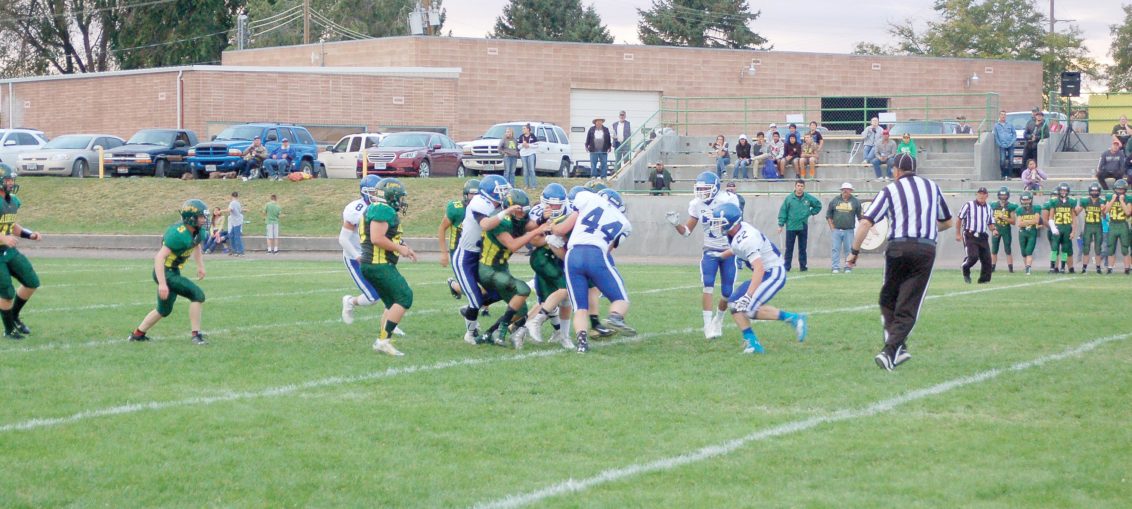 by Lindy Williams
Burns Times-Herald
After Jay Jay Balowski ran back the opening kickoff for an 85-yard touchdown, and David Steeves ran in the two-point conversion, the Mustangs never looked back in their 52-6 win over the Adrian Antelopes.
On their first possession, Roberto Ramirez was forced to punt the ball after a tackle by Sam Williams ended the Antelopes' drive. Miles Maupin, Jacob Dunn, and Steeves chewed up yardage until a handoff from Maupin to Steeves increased the Mustangs' lead to 14-0.
The Antelopes' next possession ended when Bryce Otley sacked Murray, resulting in an 8-yard loss.
After two Mustang first downs, Maupin connected with Cashe Davis for a touchdown, bringing the score to 20-0. Elijah Epling carried the ball in for the two-point conversion, bringing the score to 22-0.
The Antelopes began their next drive on the 25. Otley, Maupin, Williams, and Alex Defenbaugh all contributed tackles that brought the Antelopes to second-and-five on the 30. Two false start penalties against the offense ended the Antelopes' possession with just over 11 minutes remaining in the second quarter. Maupin ran in the next touchdown, bringing the score to 28-0, and Balowski punched in the two-point conversion for a 30-0 score.
Adrian lost their next possession on downs. Handoffs to Steeves and Dunn advanced the Mustangs down the field, and with 56 seconds left in the second quarter, Maupin connected with Davis for a 71-yard touchdown, making the score 36-0.
The Antelopes' next possession began with 42 seconds left in the first half. Munoz ran the ball to the 49, then Murray's next throw was intercepted by Balowski and ran back for a Mustang touchdown. The two-point conversion from Steeves brought the score to 44-0.
After another Antelope turnover with just under seven minutes left in the third quarter, Maupin handed off to Balowski for another touchdown and conversion. This would be the Mustangs' final score of the night at 52-0.
The two teams traded possessions before a Mustang fumble in the fourth quarter returned the ball to Adrian hands and Murray connected with Kenny Purnell for the Antelopes only goal for the night.
Maupin completed two of four passes for 101 yards, and two touchdowns.
The Mustangs rushed for 222 yards, led by Steeves with 134 yards on 17 attempts. Maupin ran for 57 yards on five attempts, Dunn carried four times for 16 yards, and Balowski ran for 15 yards on one attempt.
Davis was the Mustangs' leading receiver with 101 yards gained in two attempts.
The Mustang' next game will be their Homecoming matchup on Friday, Sept. 30 against Harper/Huntington.