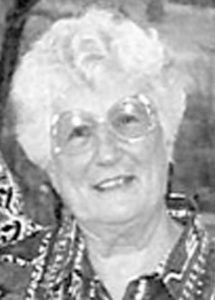 Ilah Marie Grimsley passed away Sept. 12.
She was born Oct. 23, 1921.
Ilah moved to Burns with her mother, Marie Wallan, and stepfather, Kenneth Wallan. In high school, she worked at the Welcome Drug Store soda fountain.  She loved to roller skate.  One night  at the rink, she met a handsome young man from the CCC camp at the Gap Ranch. It was love at first sight and so she married H.T. "Grimey" Grimsley. They had two wonderful sons, Kenneth (1943) and Thomas (1947).
In 1962, they bought the John Day Dairy in John Day. They ran this as a family business until 1972.  Grimey then became the athletic bus driver until his death in 1976. Shortly after, Ilah began working at the Blue Mountain Nursing Home, caring for the guests there.
Later in life when her eyesight failed, she moved to Portland so her son, Kenneth, could look after her. This responsibility was shared by her other son, Tom, who was caretaker at different times. He moved in with her after Kenneth's death in January of 2014.  Ilah passed away after a short stay at an assisted living center in Oregon City.
Ilah had a good life. She worked hard at every job she had. She was a fun-loving person who cared about the people around her. She had a kind word for all.  She loved company, but would remark that at her house the guests only got "a bed and blanket" as she wasn't a cook. Her subtle jokes and sense of humor will be missed.
She is survived by her son, Tom of Idaho; nephews, nieces, grandchildren, great grandchildren, and friends all over the country.  At her request, there will be no services. Contributions on her behalf can be made to a charity of your choice.