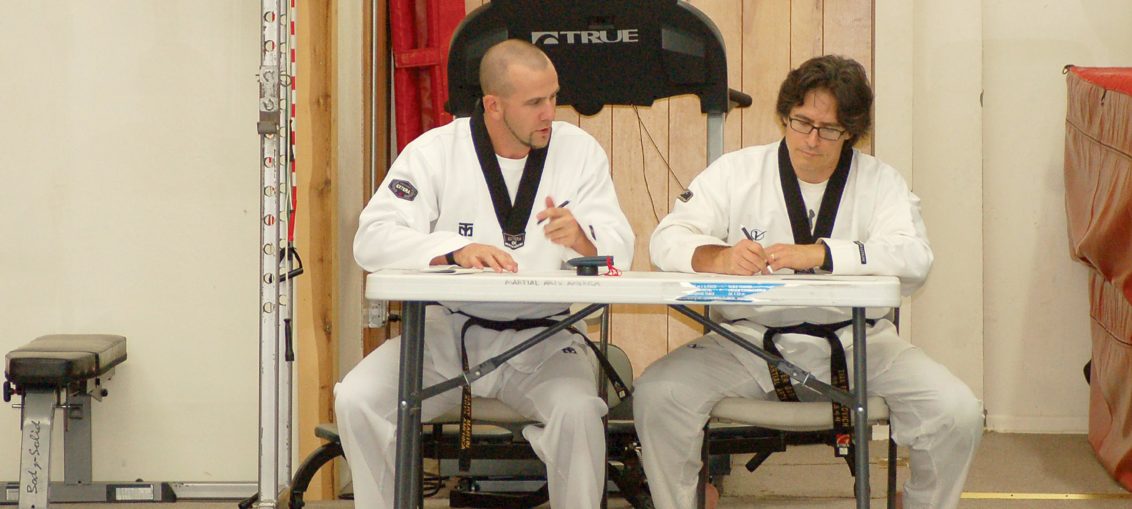 Josh Ward took the reins as owner and lead instructor of Martial Arts America, located at 405 N. Broadway Ave. in Burns, Thursday, Sept. 1.
Ward, who is now a black belt, has been taking Taekwondo classes at the martial arts studio since a few months after Evan Franulovich opened it in 2010.
He has led classes in Franulovich's absence many times, and said he feels confident about teaching. However, he said operating the business will be new to him and his wife, Melissa.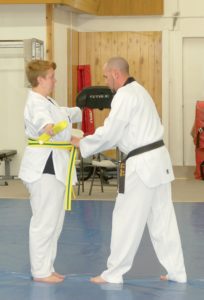 "It was kind of like a last-minute decision," Ward said regarding purchasing the business. He added that it would have been sad to see the doors to the gym close after all that Franulovich has done to teach martial arts to members of the Burns-Hines community.
Ward said that, upon learning that Franulovich is moving to Alaska, a group got together to discuss the option of forming a nonprofit organization to keep the martial arts program afloat. However, after researching the amount of fees and paperwork required to start a nonprofit, the Wards determined it would be better to buy the business outright.
"It worked out really well for us, so we're really excited," Ward said, adding that he plans to keep the curriculum the same, with only a few minor adjustments and a slight schedule change.
About Martial Arts America
Martial Arts America offers Olympic-style (competitive) Taekwondo. Originating in Korea, Taekwondo is a style of fighting that uses kicks and punches as well as select weapons training to help develop confidence and coordination and preserve a tradition that started many, many years ago.
Charmarie Bradach will continue to offer cardio kickboxing at the studio Mondays and Wednesdays at 7 p.m.
Other areas of study include self defense, bully prevention and avoidance, Brazilian-style jiu-jitsu, and much more.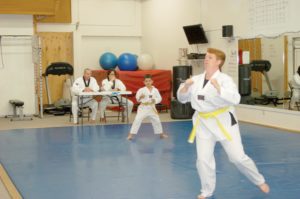 Ward said self defense and bully prevention are confidence boosters, while weapons training helps with coordination and balance and is a great way to stay in shape. He added that jiu-jitsu teaches moves that enable students to remain competitive when they're knocked to the ground.
Anyone from age 4 to adult can take classes at the studio.
The youngest group, Little Dragons, consists of 4 to 6 year olds. The youth class is for students ages 7 to 12, and anyone who is 13 or older is part of the adult class.
Beginning Sept. 12, school-age participants can ride the bus to the studio for after-school classes.
Ward said a lot of the younger students can be really timid when they begin taking classes, but they develop confidence over time. He said the classes also teach respect, focus and self control, and he's observed "huge improvements" in the behavior and performance of students who have attention deficit disorder.
Franulovich mentioned that martial arts are also a great way to train for mainstream sports such as baseball, basketball, and volleyball because they teach transferable skills such as agility, speed, power, and footwork.
About Ward
Ward grew up in Cape Cod, Mass., and joined the Army after high school. He was originally stationed in Germany and served a six-month tour in Bulgaria where he participated in international military training, mostly involving engineering. He continued his service at the Fort Hood military post in Killeen, Texas, which is where he met his wife.
"When I got there, I instantly fell for Melissa, like the second I saw her," he said. "I still remember what she was wearing."
The Wards were in the same unit, and they served a tour in Iraq together in 2003, during which Melissa was injured by a rocket-propelled grenade (RPG).
After completing the tour, the couple returned to Fort Hood, and Melissa became pregnant with their oldest son, Eli.
Her term of service was up, so she decided to leave the military and return to her hometown of Burns.
"I went to Iraq on a second tour, which was cut short because I got blown up," Ward said, explaining that he was discharged from the military due to injuries sustained from a mortar attack.
The Wards decided to make their home in Harney County, and they welcomed two additional sons, Noah and Finley.
The Wards are also hosting Max, an exchange student from Denmark, this year.
Eli, age 11, Noah, age 8, and Finley, age 4, are all involved in martial arts.
"That's really great because our school has a family atmosphere," Franulovich said.
He added that Ward is "an excellent martial artists, and he's great with both adults and kids."
"I think he's going to do a really great job with the business," Franulovich said, adding that he's "thrilled" that the program will continue.
Franulovich urged the community to continue to support Ward and maintain martial arts in Harney County.
"I'd love to see him get a new batch of students," Franulovich said. "Getting new students is always a great way to get excited."
A new adventure
Franulovich's wife, Annie, accepted a teaching position at the Alaska State School for the Deaf and Hard of Hearing in Anchorage.
"It's a perfect job for her," Franulovich said, explaining that she is a sign language interpreter.
Although he may continue teaching martial arts classes, Franulovich said he's interested in becoming a student and would like to take fencing or jiu-jitsu classes in Alaska.
He plans to make the move in mid-October and will keep busy with a couple of film projects until then. He is currently working on the feature film Lean on Pete, and he'll be making short, promotional videos for Harney District Hospital after that.
During his time in Harney County, Franulovich also taught French classes and directed stage plays, and he said he hopes someone will fill his shoes in those arenas as well.
He said he's excited about the move, but also sad to leave Burns because he feels at home here.
"I've been in Burns longer than I've been in any place since high school," he said, explaining that he's moved around a lot. "Burns is a great place."
Franulovich and Ward have been working together on transitioning ownership of Martial Arts America throughout the month of August.
"Josh has been teaching more of the classes, and I've been stepping away a little more, which is good because the kids are starting to look for Mr. Ward, instead of Mr. F.," Franulovich said.
Additional information
For more information about Martial Arts America, contact Ward via email at mjenward04@gmail.com or via phone at 541-573-5425.