By now, most people are aware of scientists' predictions that a large magnitude (8.0-9.0) earthquake is likely to strike the Pacific Northwest anytime between today and a few hundred years from now. The quake would occur along an 800-mile fault line known as the Cascadia Subduction Zone, located just off the coast of Washington, Oregon, and Northern California, resulting in a tsunami event that would inundate whole swaths of ocean-side communities. In an effort to prepare for this disaster scenario, a massive earthquake and tsunami drill called Cascadia Rising was conducted last month across the region, involving some 20,000 participants.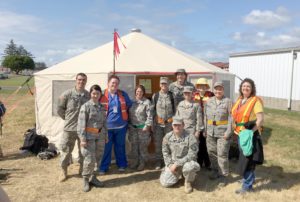 Perrilyn Wells, safety officer and emergency medical technician (EMT) at Harney District Hospital (HDH), was one of those participants. Wells was stationed in Astoria, as one of 60 members of the State Emergency Registry of Volunteers in Oregon (SERV-OR) called to participate. The event, which was held June 7-10, was overseen by the Federal Emergency Management Agency (FEMA) and involved representatives on the federal, state, and local levels, including the U.S. military and Native American tribes. The primary goal of Cascadia Rising was to train and test a community approach to complex disaster operations that depend upon coordination and integration at all of these levels. Fourteen response core capabilities were tested, with special attention to operational communications, public health and medical services, mass care services, situational assessment, critical transportation, and operational coordination.
Wells' role at the Astoria portion of the drill was as leader of one of 12 Medical Rapid Response Teams (MRRTs). The teams were composed of both military and civilian members, including physicians, physician assistants, nurse practitioners, nurses, civilian EMTs, military medics, and support staff. Although these types of drills have been happening for a number of years, Wells said this is the first year that civilians and military personnel were combined in the MRRTs. She said everyone worked well together, and that she learned a lot from the military mindset.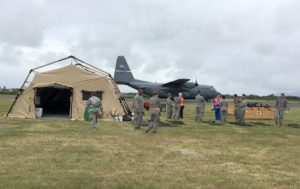 "It was a great experience to work with the military personnel. They were calm, reliable team members," said Wells. She added that she feels more mentally prepared for a disaster now, and learned a lot about "austere care" – medical care in the absence of many of the supplies or pieces of equipment that are normally utilized in emergency medical situations.
During the Astoria exercise, the field at the local middle school was set up as an alternate care site for Columbia Memorial Hospital, with participants being asked to imagine a scenario in which that facility had been damaged and operations needed to be relocated. Wells and her team triaged and treated the pretend patients and secured them on helicopter transport to be taken to the local airport, at which point they would be flown out on a U.S. Air Force C-130 to hospitals around the region and nation.
In addition to learning about ground zero operations, Wells said she also got a better idea of what Harney County and Eastern Oregon could expect in the event of a catastrophic earthquake off the coast of the Pacific Northwest. Though the likelihood that people here would actually feel the quake is low, the aftermath of the disaster would certainly affect the area. Wells said electricity would likely be shut off immediately to avoid overwhelming the state's power grid. Communication will be "tight," she added, as most cellular towers in the state would be in inundation or liquefaction zones. Then there's the inevitable issue of the refugees created by the disaster.
"We are on a major thoroughfare," said Wells, "people will probably start arriving within 72-96 hours of an event."
These will include people who are sick, out of their medications, experiencing high levels of stress, and lacking water, food, and fuel, said Wells. Emergency response teams would work to set up temporary housing for this displaced population.
What can the general public do to alleviate a crippling scenario like this?
"We need to be as prepared as we can be in our own homes," said Wells, "This means not a couple days, but a couple of weeks' worth of supplies."
One of HDH's preparations includes a diesel generator that will keep critical equipment operational for up to 96 hours. Wells also noted that alternate sources of supplies from the east have been identified, as many things currently are shipped from the west side of the state.
Wells has been safety officer at HDH for five years and an EMT for six. She also serves as a first responder where she lives in rural Harney County. But it's not only HDH and Harney County that Wells serves – four years ago, she joined SERV-OR, a statewide registry system to help pre-credentialed health care professionals volunteer their services during emergencies with significant health impacts. The registry is sponsored by the Oregon Public Health Division in partnership with the Medical Reserve Corps. It utilizes a secure database to register, credential, and alert volunteer health providers. In the event of a disaster (or disaster training or exercise such as Cascadia Rising), members may be called to assist on a local, state, or national level, depending upon credentials, interest, availability and the nature and scope of the event. Wells said she joined because she wanted the opportunity to go to and help out communities in need.
As for the success of Cascadia Rising, Wells says things are going in the right direction:
"We are stepping closer and closer to preparedness. Although we can't possibly drill for all the 'what-ifs,' we've come a long way in the last 10 years. But we've still got a long way to go."