Warrants part of tobacco theft investigation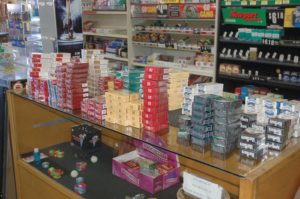 Two individuals were arrested after Burns and Hines police departments served two search warrants on Tuesday, May 10, as part of an ongoing investigation into the theft of more than $30,000 worth of tobacco products.
The first search warrant was served at The Smoke Shop, 497 South Kearney in Burns, and officers arrested Jeffery George Evans, 40, on charges of attempted aggravated theft I, theft I, attempted theft by receiving, attempted unlawful possession of methamphetamine, and unlawful possession of fireworks. Evans was lodged at Harney County Jail.
A second search warrant was served at a residence at 629 South Diamond. There, Tiffany Anne Davis, 31, was arrested on a charge of possession of a controlled substance methamphetamine, and booked and released at Harney County Jail.
The investigation began back in December 2015 when a Harbor Wholesale truck out of Roseburg was broken into while parked at a local motel.
In April, another Harbor Wholesale truck was broken into, again while parked at a local motel for the night.
A police spokesman said the case involved the theft of cigarettes and chewing tobacco from the two trucks, and Burns Officer Robby Tiller, acting on a tip, secured the search warrants.