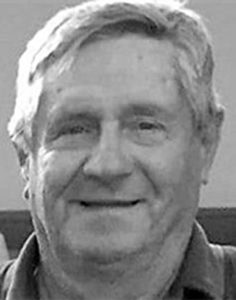 Richard Donald Kimball, "Doc" Kimball as he was called, passed away April 18 in Newberg, at the age of 79.
He was born Feb. 25, 1937, in Centerville, Iowa, to Donald and Inez Kimball. He grew up in the Moulton and Centerville area of Iowa, and graduated from Russel High School. He graduated in May 1962 from Iowa State University with a degree in "Doctor of Veterinary Medicine".
He headed west to Oregon where there was a need for veterinarians. After serving an internship in Corvallis, he happened to pass through the small town of Newberg. He found an old timer, Dr. Paddon, who wanted to retire and have him take over his practice. He settled right in, starting a large and small animal practice. He worked day and night on everything from cows, horses, dogs, cats, pigs, sheep, goats, rabbits, you name it.
He had three children, Karen, Danna, and Shayne. Dinner conversations were lively, talking shop about the events of the day from delivering baby calves, to who was sprayed by the skunk he de-scented, to the duck who bit the hunting dog. The children tagged along on many of his veterinary calls and grew up with a well-rounded education of life. He was the only veterinarian in Newberg and surrounding area for many years.
In his younger years as a veterinarian, he volunteered for "Heifer Project International," writing health certificates, vaccinating food animals going to countries in need, and accompanying the animals to their destinations. He was the St. Paul Rodeo veterinarian from 1964 to 1998. He belonged to the Willamette Valley Veterinary Group, Oregon Veterinary Association, American Veterinary Association, the NW Santa Gertrudis Association, Farm Bureau, Oregon Cattleman's Association, and the National Cattleman's Beef Association.
In 1975, he sold his practice and moved his family to Parrett Mountain, where he pursued his love of raising Santa Gertrudis cattle and dealing in real estate. During that time, he was very active in the NW Santa Gertrudis Cattle Association, serving as president and traveling to Australia to the National Santa Gertrudis meeting in Brisbane.
In 1980, he returned to his veterinary practice in Newberg. In 1996, he moved to his ranch in Crane, near Burns, where for the past 20 years he has enjoyed his love of ranching and being a ranch veterinarian. He loved the flavor of the old west, raising cattle in the wide open range, roping and branding calves by the fire, and camaraderie with the cowboys. Doc was a story teller and a people person. He had a big heart for people who were down on their luck. One of his greatest gifts to society, other than his love of animals, was his unintentional mentoring to the young people in his life. He strongly believed a good education was the greatest gift anyone could have for the success of their future.
He is survived by his oldest daughter, Karen Scott, her husband, Cameron, and sons, Creighton and Carson, of Omaha, Neb.; daughter, Danna Kemp, her husband, Darrell, son, Tyler, and daughter, Madeline, of Sherwood; son, Shayne Kimball, his daughter, River, and son, Kessen, of Joseph; and Nancy Logan, a cousin (like a sister) of Bloomfield, Iowa.
His mother preceded him in death when he was 9. His father and sister, Betty Schack, also preceded him in death.
A memorial service will be held at 2 p.m. Friday, May 20, at St. Thomas Catholic Church in Crane. He will be buried next to his mother near Moulton, Iowa. Contributions may be made in memory of Dr. Richard D. Kimball to: Crane Schools, P.O. Box 828, Crane, OR 97732 and/or St. Thomas Catholic Church, 64302 Main St., Crane, OR 97732.