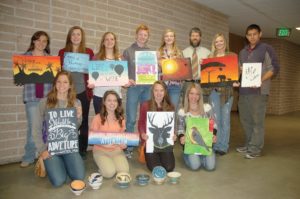 Realizing that there was a need for funding for the art and choir programs at Burns High School (BHS), Natalie Grigg focused her senior project on helping keeping the programs sustainable.
Grigg is planning a "Shout Out to the Arts" benefit concert at 7 p.m. Tuesday, May 10, in the BHS cafeteria.
Grigg said she's always been passionate about music and art, and loves putting together events. "But I've never put together one of this magnitude before," she said.
Grigg has performed herself, but pointed out that performing in an event and organizing one are two completely different things.
"There's advertising, getting performers lined up, selecting music, all aspects of a concert," she said. "I've learned a lot about working with other people, especially the importance of communicating, getting everyone on the page, making sure everyone is getting the same information."
Performers for the concert are Bettina Bowman, India Paramore, Kyle Ruggles, Elaine Wulff, The Johnson Brothers and Benny Santos, Alyssa Burri, Dylan Thompson, the BHS choir, and Grigg.
Grigg said she's especially excited to have the BHS choir perform, as that program was just recently brought back.
"I think people will be pleasantly surprised with the choir," she said.
Along with the concert, there will also be a silent auction featuring artwork by BHS students, a drawing for a basket full of art supplies, and an ice cream bar.
The ice cream will be served at the tables in the cafeteria, and concert-goers may purchase a souvenir ceramic bowl, made by BHS art students, to enjoy their ice cream in.
"Giving people a chance to purchase a bowl made by students allows those students to be part of the project too," Grigg said.
Debby Peckham is Grigg's mentor for the senior project, and Grigg described her as "wonderful to work with."
Cost to attend the concert is $5 per person, $20 per family.
The ice cream is $2, or $7 for ice cream served in a handcrafted ceramic bowl.
"Hopefully, we'll make some money for the art and choir programs and keep them going," Grigg said.