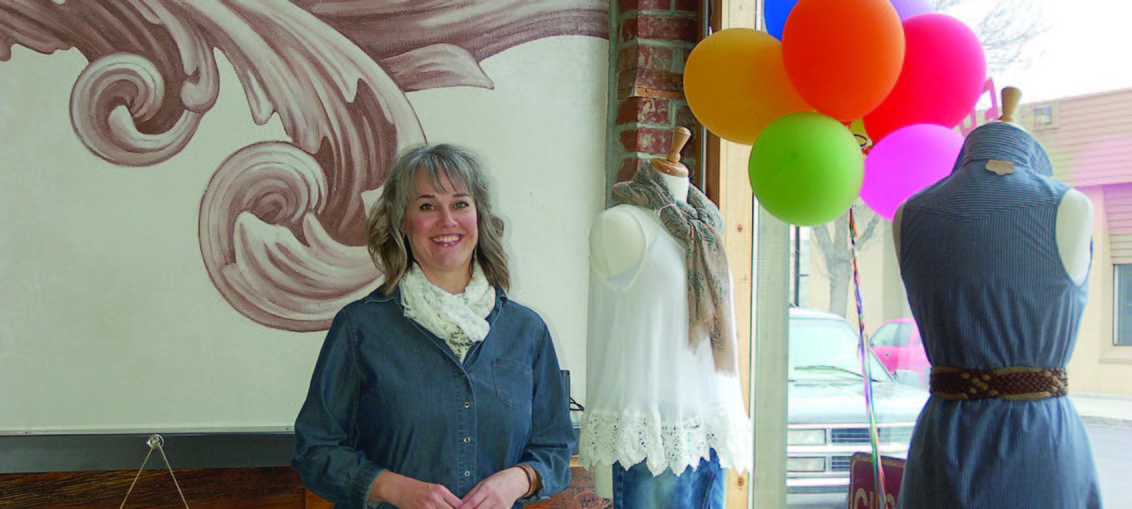 Boutique offers array of ladies' clothing options
As a child, Robin Christy was the kind of girl who liked to play dress up, and her passion for fashion continued into her adult life.
"I love to dress people. I love it when they give me that opportunity," she said.
The owner of Robin's Closet, located at 408 N. Broadway Ave. in Burns, Robin is a clothing connoisseur who delights in helping shoppers look and feel their best.
Her store offers an array of outfit options for women and teenage girls, with prices ranging from budget to boutique.
"I try to get things that the young people can afford, but also things that are much higher end," she said.
Carrying items such as socks, shoes, pants, jeans, shirts, dresses, blouses, scarves and hats, the "unique boutique" can cover ladies' fashion needs from head to toe. Robin's Closet also sells socks fit to keep men's tootsies toasty and gift items such as candles, bath salts and soaps.
Robin, who strives to sell as many American-made products as possible, said the store's hats, soaps, and candles were all made in Oregon.
She said she wants her business to exist to serve and benefit people. Thus, in addition to fulfilling a need for women's clothing in the community, Robin's Closet offers free Bibles and a prayer board. Patrons can post prayer requests to the board, and they will be honored by Robin and her husband, Mark, every day.
"That's part of our daily routine, to pray for requests and anything that's been placed on the prayer board," Robin said. "If it were not for our faith, this [business] would not exist. We are very blessed because God has allowed us to have this."
She recalled that, about a year and a half ago, her job started going in a direction that was difficult for her, so she started looking for a more fun-filled occupation.
She was offered a position managing a clothing store in Idaho, but, after praying about the opportunity, the Christys decided to consider the option of opening their own boutique in Burns. Mark (who Robin affectionately refers to as "Mr. Christy") grew up in Harney County, and the couple has been back in the area for almost a decade.
They tested the waters by holding a trial sale during the 4-B Harvest Market last fall, and were encouraged by the response from customers.
"I went and bought clothes and brought them to the market, and they sold very well," Robin said. "So I got the two thumbs up to proceed with this plan. We felt that God was really blessing us."
Robin also sought advice from other business owners who encouraged her to pursue her dream.
The Christys hoped to open their shop at the beginning of March, but they encountered some delays. Bound and determined to open in time for the Harney County Chamber of Commerce's 1st Thursdays event on April 7, the Christys rented a moving truck and unloaded the store's entire inventory April 6.
"Now I have my guest rooms back, and my Christmas tree down, and life feels more normal," Robin said, explaining that the merchandise consumed her home.
When asked whether she's planning a grand opening event, Robin replied that Jen Keady hopes to have an open house for the whole building, but she hasn't decided on a date quite yet. Robin's Closet shares the ground floor with Family Eyecare of Harney County (Jen's optometry business), and the Keady family inhabits the upstairs.
A friend of Jen and Forrest Keady painted murals throughout the building, including an impressive piece in Robin's Closet that was inspired by three historic photographs of downtown Burns. In an attempt to pay tribute to the building's original architecture, Forrest decided not to patch the holes in the mural wall, as these holes once held the beams that supported the mezzanine level.
Robin said business has been good so far, and she encouraged everyone to stop by and see what her store has to offer.
"Come in and see," she said. "We might have something you'd like."
Current business hours are Monday through Friday, 10 a.m. to 5 p.m., and Saturday, 11 a.m. to 5 p.m.