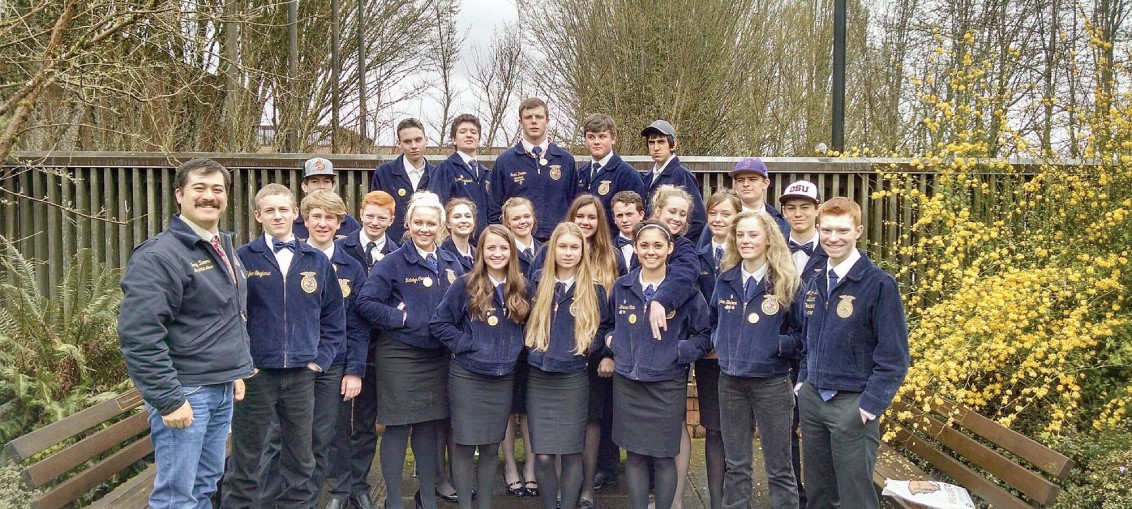 Twenty-two members of the Burns FFA Chapter took attended the Oregon State Convention in Corvallis at Oregon State University March 18-21.
Six Burns FFA members earned their state degree this year. The state degree is the highest award a state FFA association can bestow upon its members.  James Obradivich, Tyler Thomas, Mason Dahl, Sydnee Shelman, Korina Cate and Mackenzie Moulton were awarded their state degrees during the Saturday evening session of the Oregon State Convention.
Christian Boyd, Kolton Dahl, and Mason Dahl competed at the state level in speaking contests.  Boyd participated in Beginning Public Speaking, with his speech addressing the current cloning issue in the AQHA. K. Dahl competed in the FFA Creed Speaking contest, and was awarded the Oregon State title. He will represent Oregon this upcoming fall in Indianapolis at the National FFA Convention. M. Dahl competed in the Advanced Public Speaking contest with his speech about protecting our rangelands through wild horse management, where he took second place overall.
The FFA members participated in Food for All, a service project that provides food relief for those who need assistance. The chapter members repackaged food and organized it for distribution throughout the state.  Keynote speaker Kelly Barnes urged FFA members to take advantage of their opportunities and live in the moment. Many of the Burns FFA Chapter members took part in judging proficiencies. Other highlights included various sessions and workshops that focused on service, leadership and individual involvement.
Jimmy Zamora, Burns FFA chapter advisor, and Mrs. Elaine Davies, chaperon, also attended the convention.