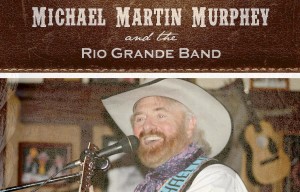 Lakeview, Pendleton, and Bend are thrilled to welcome cowboy and western music legend Michael Martin Murphey and his Rio Grande Band to play benefit concerts for Adel resident Andy Rieber. Murphey will perform on Friday, April 8, at the Lakeview Elks Lodge, on Saturday, April 9, at the Slickfork Saloon in Pendleton, and on Sunday, April 10 at the Tower Theatre in Bend. Rieber has been fighting with an increasingly debilitating case of Lyme disease, and the benefits will help support her ongoing treatment and recovery.
A multiple Grammy nominee and Western Music Hall of Fame singer-songwriter, Murphey has captivated fans for years with his ability to render the iconic images and stories of the American West in his distinctive musical style.  Best known for his hugely successful revival of traditional cowboy songs and for country-crossover mega-hits like Wildfire, Carolina in the Pines, and What's Forever For, Murphey's pioneering approach to western music defies easy classification. But while Murphey's music bucks obvious stereotypes, his genre-busting songs deliver something infinitely more satisfying—soulful, evocative, foot-stompingly good music steeped in the history and traditions of the West. If you're longing for flat-out authentic western music, look no further. Michael Martin Murphey is the gold standard.
Murphey's Oregon benefit tour comes just days before the release of his much-anticipated latest album, High Stakes: Cowboy Songs VII, a tribute to the beauties and hardships of the lives of working cattle ranchers.
Rieber is well known in Lake County, and has worked for years as a journalist and consultant, telling the story of ranchers to the wider public and helping to protect the ability of ranchers to graze on public lands.  The benefit is being produced by Murphey's  non-profit foundation Murphey Western Institute—"A center for the education, preservation, and perpetuation of the arts, culture, history and legacy of the American West."
For ticket information for the Lakeview and Pendleton concerts visit: michaelmartinmurphey.tix.com
For ticket information for the Bend concert, visit: towertheatre.org or call 541-317-0700.
Information about Michael Martin Murphey may be found at: michaelmartinmurphey.com