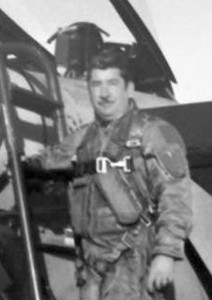 Col. Arthur "Art" Provencio U.S. Air Force, Retired, passed away March 7 in Henderson, Nev., with his loving wife, Irene, at his side.
Art was born in 1933 in El Paso, Texas, the son of Julia and Santos Provencio. He graduated from Superior High School and Arizona State. Art proudly served in the U.S. Air Force and retired after 30 years of service. He served in Vietnam, Thailand, Antarctica, Spain, North Africa, South America, New Zealand, and Puerto Rico. Art earned many military honors including the Distinguished Flying Cross, Meritorious Service Medal with five Oak Leaf Clusters, the Air Force Commendation Award Medal, Presidential Unit Citation, Combat Readiness Medal, Antarctica Service Medal, National Defense Service Medal, the Armed Forces Expeditionary Medal and Armed Services Reserve Medal. Art's assignments included flying the F-15 fighter, flying passengers and cargo to the continents, and flying rescue missions in North and South Vietnam. He was Commander of the 71st Rescue Squadron, and Commander of Transportation in Spain, where his squads were selected the best in Europe, and one of the squadrons chosen best in the Air Force. Art logged more than 12,000 hours of flying time for the Air Force.
Art was preceded in death by his first wife, Helen, who passed away when the youngest of their four children was 6 years old. After raising his four children, he met the second love of his life, Irene, and her four children, who added tremendous joy to his life. Art and Irene traveled the world together. Art touched many lives with his infectious laugh, kindness, and love of life. He loved books, travel, golfing, fishing, motor homing, playing poker, and spending time with his large, loud, loving family.
Art is survived by his wife of 36 years, Irene; his children, Paul (Lizzy) Provencio of Alaska, Andy Provencio of Arizona, Julie (Bob) Stirling of Bend, and Susan (Pat) Forbes of California; stepchildren, Sandy (Michael) Sickafoose of Colorado, Gerhard (Colleen) Jakubowski of Arizona, Glenn (Cheryl) Jakubowski of Burns, and Mark (Sheryl) Mullins of Washington; 19 grandchildren; and numerous great grandchildren.
Memorial Mass celebrating Art's life will be at 1:20 p.m. Thursday, March 31, at Southern Nevada Memorial Cemetery, 1900 Veterans memorial Drive, Boulder City, Nev.