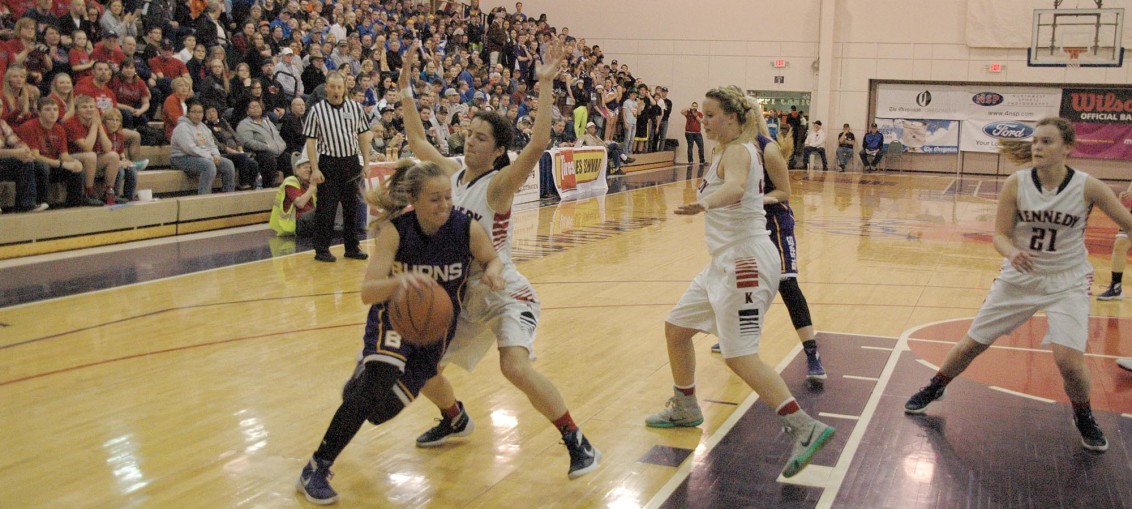 Story and photos by Mike Weber
High school basketball's version of March Madness took place in Pendleton Mar. 3-5 with both the Burns Hilander boys and girls squads participating in the highly prestigious event. Both teams returned to the OSAA/U.S. Bank/Les Schwab Tires Class 2A basketball state tournament for a second consecutive year with high hopes of possibly winning a championship at the Pendleton Convention Center.
The No. 3-ranked and two-time Wapiti League champion Burns High Lady Hilanders entered the tournament with a perfect undefeated 17-0 record versus Class 2A squads and a remarkable 25-2 overall won/loss mark. After taking second place a year ago, the Hilanders had another strong, powerhouse squad, led by Wapiti League Player-of-the-Year Catherine Clemens and they were considered as one of the top contenders to win the title.
Burns won its opening round quarterfinal contest 46-34 over the Grant Union Prospectors (21-7) on Thursday at Pendleton High School to advance to Friday's semifinals against the Monroe Dragons (26-3). Burns beat Monroe 48-41 in overtime to reach Saturday's 2A title contest against the Kennedy Trojans (25-4), but it turned out to be a bittersweet and costly victory.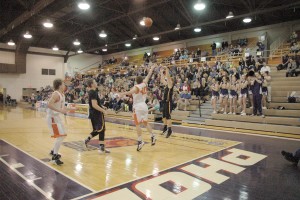 With 1:10 remaining in overtime and Burns leading 45-41, Clemens suffered a serious right knee injury when she fell awkwardly to the floor after colliding with a Monroe player on a driving layup, and she was lying on her back grimacing with much obvious pain. After about 15 minutes of assisting Clemens with treatment by athletic trainers, Burns coaches helped carry her off the court and into the medical treatment facility at the convention center.
"I'm so proud of my teammates because they all worked really hard all season to reach the championship game," said Clemens. "I just wish I could've played though, but it's unfortunate that I got injured. I'll see doctors later and get treatment and evaluate the extent of the injury. I don't think that I'll need surgery though, and I hope that it's not too serious of an injury."
Clemens, who is the Hilanders' best player and the most elite player in Class 2A, was unable to compete and was walking with crutches Saturday when Burns faced Kennedy in the finals. It was a huge setback for coach Brandon McMullen and his Hilanders. Without Clemens, who leads the Hilanders in scoring and rebounding, Burns lost the championship game 52-32 to Kennedy. Despite the unfortunate circumstances, Burns capped a highly successful season by bringing home a very respectable second place trophy for the second straight year.
"We have to give all the credit to Kennedy, because they have a good team," said McMullen, the Wapiti League Coach-of-the-Year. "They hit their shots, they played well, and it was an uphill battle for us the entire game. Obviously without Catherine Clemens, it was a pretty tough situation for us. They (Kennedy) played a good game. Our shots wouldn't fall, and we had too many turnovers (20). I'm real proud of our girls and their effort they had throughout the entire season. We're happy to get second place. It was nice to be in position to compete for a state title again, but we just fell a little short. It would've been a completely different scenario if we would've had Catherine, and it would've been very helpful for us to have her play. She's an incredible athlete and an important part of our of our program, just like everyone else on our team."
Even without Clemens, the Hilanders made a valiant effort against No. 1-ranked Kennedy, the Tri River Conference Champions from Mt. Angel near Salem. Burns fell behind 5-0 early in the opening quarter, but then responded with a 5-0 run to knot the score. Burns junior guard Carli Feist (eight points, four assists, five rebounds) scored a basket, and then junior wing Lindsey Taylor (12 pts., five rebs.) fired in a three-point field goal tying it 5-5.
"It was tough playing without Catherine, because she's one hell of a player to lose," said Taylor, who won the Moda Health Player-of-the-Game Award. "If we would've had her, it probably would've been a close game, and we might've won. We gave it everything we had though. We did a good job of playing good throughout the tournament, and it's nice that we're the second best team in the state."
After Kennedy went in front 9-5, senior post Abby Nonnenmacher (four pts.) scored to narrow the margin to 9-7. Burns was unable to get any closer than that for the remainder of the game though as the Trojans had too much offensive firepower. Kennedy built a 15-7 lead, forcing a Burns timeout with 45 seconds left in the first quarter. Following the timeout, Taylor sank a three, trimming the margin to 15-10 and it remained that score at the conclusion of the first quarter.
"I think we responded well and we did a good job of coming back and playing together as a team," said Nonnenmacher. "We had a very good season and it was nice that we got the second place trophy."
Kennedy then took control of the game in the second, outscoring Burns 11-2 to take a 26-12 halftime lead. The teams traded points in the third as Burns desperately tried to keep it somewhat of a close contest, but Kennedy remained on top 35-20 after three.
The Trojans momentum continued though and they outscored the Hilanders 17-12 in the fourth for the 20-point margin of victory. The contest marked the final game of their Burns High School careers for Madison Carson and Nonnenmacher.
"We played our hearts out, but they (Kennedy) were the better team today," said Carson. "Even without Cat, we played the best that we could as a team. It was our goal at the beginning of the season to make it here and we got farther than we expected, because some of the other teams were ranked higher than us. I just want to say thanks to my teammates for helping us have such a great season."
In the quarterfinals versus Grant Union, it marked the fourth meeting between the two Wapiti League squads, with Burns winning the previous three contests. After trailing early at 8-5, Burns took an 11-8 lead with a 6-0 run, fueled by baskets by Clemens (19 pts., 15 rebs.) and Feist (13 pts.). The teams then traded baskets with Burns on top 13-10 at the end of the first quarter.