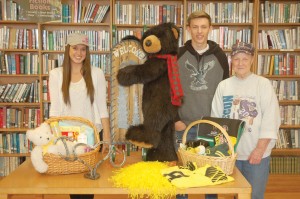 Dinner will be held March 12
Each year, Burns High School seniors are tasked with coming up with a project to work on the entire year, culminating in a finished product by the time graduation rolls around.
Trace Tiller's senior project will come to fruition Saturday, March 12, when he hosts a fundraising dinner and auction to benefit the local CAN Cancer program.
Tiller said he initially thought about painting his parents' house, but he decided to switch gears.
"I wanted to do something that was not just beneficial to me. I wanted to do something to benefit the community," he said.
Tiller then came up with the idea of doing a benefit for CAN Cancer, which has a personal touch to it, as Tiller's grandmother, Nadra White, passed away about five years ago from pancreatic cancer.
"The project is in memory of my grandma," Tiller said.
Joanie Henry, a member of the CAN Cancer board of directors and a cancer survivor herself, signed on as a mentor for Tiller, and the two went about planning the event.
Henry said Tiller was a little tentative at first when it came time to ask people for donations for the auction, but he soon overcame the nerves and carried out the job.
"This project gives him skills he can use for life," Henry said. "Organizational skills, how to talk to people, and how to get others involved by asking them."
Tiller laughed and added, "Yeah,  it was a little tough at first, but after the first three or four people I talked to, it got easier."
The dinner of pulled pork sandwiches, cole slaw, baked beans, and dessert will be served beginning at 5 p.m. Saturday, March 12, at Burns Elks Lodge. Cost is $5 per plate.
A number of items have also been donated for a silent auction. If you would like to make a donation, call Tiller at 541-413-0246.
Tiller and Henry also hope to light up the lodge with memorial luminaries, available "in memory of" a loved one or "in honor of" to celebrate a survivor, for just $5.
Harney District Hospital Outreach Coordinator Savanna Boll noted that proceeds to CAN Cancer stay local.
"The funds are used for Harney County residents fighting cancer," Boll said. "They're used to provide both financial and emotional support."
Boll added that CAN Cancer is currently serving 23 Harney County residents, helping them with expenses such as gas and lodging, and none of the funds are used for administrative costs.
The local CAN Cancer program is sponsored by C&B Sanitary Service and Harney District Hospital.