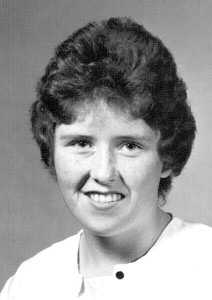 Jenifer Joy Slate passed away Feb. 16, at her home with her family by her side, after a two-year battle with breast cancer.
She was born Aug. 31, 1947, to James and Norma Cleary in Prineville. Jenifer married the love of her life, Tim Leroy Slate, July 4, 1963. They moved to Burns in 1963, where they lived and raised their family.
Jenifer was very artistic and enjoyed ceramics, sewing, long drives and visiting with friends. She was a Girl Scout Brownie leader, Sunday school teacher and also worked as a caregiver for the elderly.
Jenifer dedicated her life to raising her children and helping with her grandchildren and great-grandchildren. She was everyone's Grandma Jen. She was a loving wife to her husband, Tim, for 52 years. Her love for the Lord gave her patience and hope, which was shared with everyone who met her.
She is survived by her husband, Tim; children, Michael Leroy Slate (married to Terri Rachaele Slate) and Amy Jean Slate Kesinger (married to Gary L. Kesinger), all of Burns; five grandchildren, Timothy William Slate (married to Shyanne White Slate), Michaela Beth Slate (engaged to Stephen Gray), Wyatt James Childress (married to Loreesha Peach Childress), Jordan MacKenzie Kesinger, and Jayda Lynn Kesinger, all from Burns; five great-grandchildren, Ryden DaleLee Slate, Kaydance Joy Gray, Sapphire Dawn Childress, Bowen William Slate, and Elizabeth Reign Childress; three loving sisters, Nancy (Mike) Fields, Patti (Dale) Bowman, and Susan (Fred) Betzold and their families, all of Emmett, Idaho; and brother-in-law and sister-in-law, Ron and Jeanne Slate from Caldwell, Idaho.
She had very loyal friends who she shared many smiles and tears with, Judy Gaines of Burns, Maudeen Hammond, Bonnie Yarbor, Arlene Simpson, Kim Jones, Matt Male, Vince Allen, Darlene Austin, Ben and Martha Denarski, as well as her cousins, Kay and Jerry Maley.
She was proceeded in death by her father, James Cleary; mother, Norma Fite; stepfather, Reuben Fite; and grandparents, Margaret and Louie Ihrig.
Two memorials will be planned for the spring in Burns and Emmett, Idaho. LaFollete's Chapel is in charge of the arrangements. In lieu of flowers, donations in Jenifer's name can be made to Harney County Home Health and Hospice, 415 N. Fairview, Burns, OR 97720, 541-573-8360.