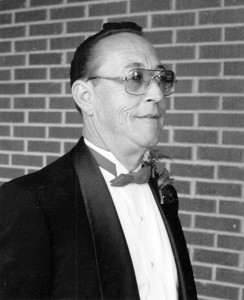 Ronald James Moss, 83, passed away Jan. 12 in Bryant, Ark., as a result of congestive heart failure. He passed away peacefully while being comforted by his daughter, Shandel Carter.
Ron was born Nov. 29, 1932, in New Plymouth, Idaho, to James and Marie (Stirm) Moss, the 12th of 13 children.
Ron grew up in New Plymouth, and attended school there. His parents moved from New Plymouth to Hines in 1949, just before Ron was to graduate from high school. He lived with his sister, Beunita, and finished his senior year.
After graduation, he joined his parents in Hines. As a young man, he worked on area ranches.
In 1953, Ron enlisted in the U.S. Navy and served for eight years. He enjoyed serving his country and sailed into almost every port in the South Pacific. He spent two years in the Philippines.
He was honorably discharged in 1961, and returned to Hines, where he was employed by the State of Oregon Highway Department.
On Oct. 9, 1963, he was united in marriage to Lucille Botkins, the love of his life. They settled in Burns, and together provided a secure, loving home for their children and grandchildren. Ron and Lucille enjoyed a loving and happy marriage until Lucille's death in 2000.
Ron provided for his family by mostly working for the State of Oregon Highway Department, U.S. Postal Service, and Edward Hines Lumber Company.
He enjoyed reading, camping, fishing, hunting, cooking, playing card games, crossword puzzles, collecting rocks and coins, computer games, umpiring Little League baseball, and enthusiastically cheering on his favorite sports teams. Ron enjoyed his large family and left them with many rich memories and traditions.
Ron was a gentle soul with a huge heart and quick wit. His laugh was contagious. He was an excellent husband, father, grandfather, great-grandfather, and uncle. He would do anything for his family.
Ron is survived by his daughters, Barbara (Tom) Choate of Hines, Shandel (Dick) Carter of Bryant, Ark., Donna (Aaron) Richardson of Hines, Sharon Botkins of Bend, and Darleen Moss (Mark) Beall of Sauvie Island; son, Orie (Phyllis) Thomas of London, Ky.; daughter-in-law, Deenie Botkins of Burns; grandchildren, Dena Vinzant of Canby, Tom Choate of Hines, Michael Choate of Burns, Lloyd Pratt of Hermiston, Ronald Pratt of Dallas, Texas, Duane Carter of Lake Tahoe, Calif., Tia Carter of Bryant, Ark., Ryan Botkins of Stafford, Ariz., DeShaunna Simpson of Hines, Misty Shepherd of Salem, Kiley Richardson of Hines, Ty Richardson of Redmond, Kelley Mingus, Rod Mingus, and Brandon Turley, all of Bend, John Beall, Chance Beall of Portland, and Amberlee of London, Ky.; 31 great-grandchildren; six great-great-grandchildren; brothers, Robert Moss and Jack Moss of Hines, and Donald Moss of Pendleton; sister, Mary Solmon of Orofino, Idaho; and many nieces and nephews.
He was preceded in death by his loving wife, Lucille; son, Ray Botkins of Burns; brothers, Ralph Moss, Frank Moss, and Clark Moss, all of Hines, and William Moss of St. Maries, Idaho; sisters, Beunita Griffin of Portland, Dorothy Curtis of Sacramento, Calif., Anna Wolford of Orofino; and parents, James and Marie of Hines.
A funeral service will be held at 2 p.m. Saturday, Jan. 23, at the Harney County Church of the Nazarene in Hines. Navy military honors will be held at the Burns cemetery immediately following the service.