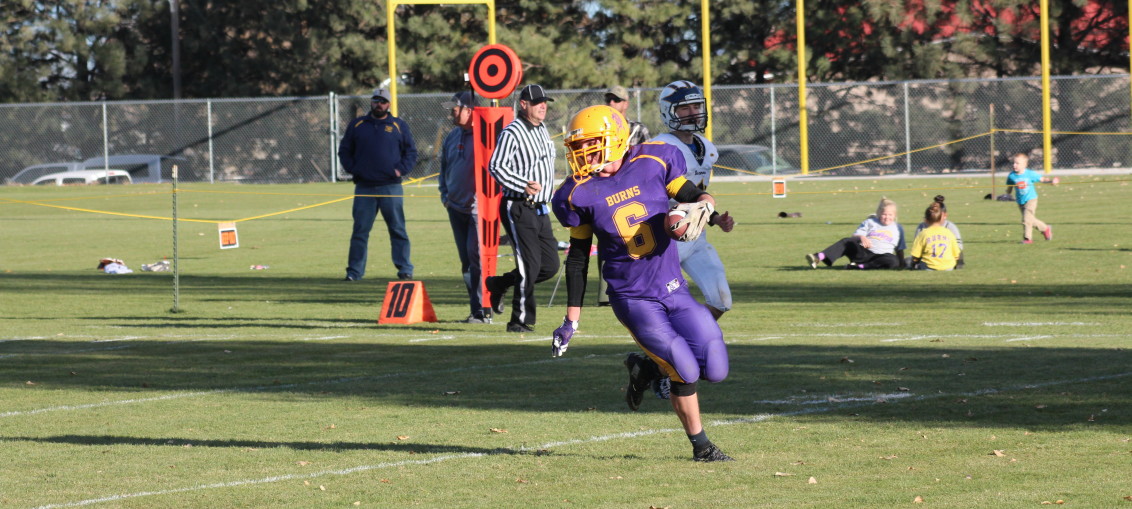 Trey Recanzone threw for five touchdowns and ran for two more, and Justin Lewellen accounted for 309 all-purpose yards and three scores, to lead Burns to a 63-21 win over Toledo in the first round of the OSAA/US Bank/Les Schwab Tires 2A state football playoffs on Saturday, Nov. 7.
The Hilanders advance to the second round, and will play at Kennedy High School in Mt. Angel at 1 p.m. Saturday, Nov. 14.
An interception by Lewellen on the Boomers' first drive of the game set up Burns with a first down at the Toledo 49. Lewellen then broke free for a 46-yard gain, and Recanzone  scored on the next play to give Burns a 7-0 lead.
Toledo answered back on their next possession, scoring on a 28-yard pass from Isaiah Marchant to Jon Cyphert to tie the game at 7-7.
Burns started their next drive at their own 44, and  went ahead 14-7 on a 6-yard touchdown catch from Recanzone to Ty Hueckman.
After forcing Toledo out on downs, the Hilanders made it a 20-7 ball game on a 71-yard screen pass to Lewellen for the score.
The Hilander defense then forced a fumble, and Burns recovered at the Toledo 22. Four plays later, Recanzone found Trace Tiller open in the end zone from 10 yards out, and Burns led 28-7 after the two-point conversion.
Toledo made it 28-14 on a 17-yard run by Marchant, and looked ready to cut into the lead even more after recovering the ensuing onside kick at the Burns 43.
The Boomers drove to Burns' 24 in three plays, but Hueckman stopped the drive with an interception that he returned to the Toledo 32.
Recanzone finished off the four-play drive with a 15-yard run, and Burns led 35-14 at halftime.
After receiving the second-half kickoff, the Hilanders put together a 77-yard drive and went ahead 42-14 on a 19-yard pass from Recanzone to Zane Bailey.
Midway through the third quarter, Recanzone delivered a 15-yard touchdown pass to Hueckman to put Burns up 49-14.
The Boomers went to their running game and put together an 80-yard scoring drive, with Kyle Otis scoring from two yards out.
The Hilanders rounded out the scoring with a 64-yard run by Lewellen and a 15-yard burst up the middle by Cade Maupin.
With the win, Burns improved to 7-3 on the season, while Toledo ended their season with a 6-4 record.
Tol         7      7      7      0      21
Bur      20     15    21     7      63
First quarter
Bur — Trey Recanzone 3 run (James Obradovich kick) 2:49
Tol — Jon Cyphert 28 pass from Isaiah Marchant (Marchant kick) 5:58
Bur — Ty Hueckman 6 pass from Recanzone (Obradovich kick) 6:24
Bur — Lewellen 71 pass from Recanzone (pass failed) 11:24
Second quarter
Bur — Trace Tiller 10 pass from Recanzone (Lewellen pass from Recanzone) 1:04
Tol — Marchant 17 run (Marchant kick) 5:15
Bur — Recanzone 15 run (Obradovich kick) 8:06
Third quarter
Bur — Zane Bailey 6 pass from Recanzone (Obradovich kick) 1:59
Bur — Hueckman 15 pass from Recanzone (Obradovich kick) 5:08
Tol — Kyle Otis 2 run (Marchant kick) 10:05
Bur — Lewellen 64 run (Obradovich kick) 10:57
Fourth quarter
Bur — Cade Maupin 15 run (Obradovich kick) 7:43
Individual statistics
Rushing — Burns, Recanzone 6-4, Palmer 3-15, Lewellen 11-238, Higgins 2-24, Goss 3-15, Maupin 3-19, C. Tiller 1-0. Toledo, Marchant 27-110, Sharp 2-(-1), Otis 7-20, Cyphert 2-19, T. Cross 5-51.
Passing — Burns, Recanzone 18-13-1 143, Goss 2-2-0 22, C. Tiller 0-1-0 0. Toledo, Marchant 13-27-3 184, Cyphert 1-1-0 27.
Receiving — Burns, Hueckman 2-21, Tiller 1-10, Robey 1-3, Lewellen 1-71, Bailey 3-38, Taylor 1-13, Paramore 1-9. Toledo, Cyphert 7-146, Walker 2-22, Petersen 2-14, Sharp 1-0, Otis 1-2.